Did you know that many of our natural heritage are featured in our currency?

Before the whole president series, our dollar bills were MUCH MUCH more interesting. Just the other day such a bill came to my hands and I had to look at it for very long because I had not seen something like that for at least 15 years!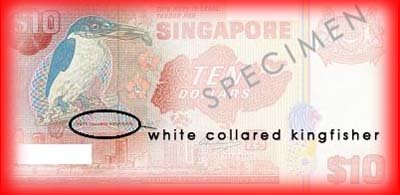 Check out the fish in its beak! Looks almost like a mudskipper! But interestingly this is an urban bird as seen regularly in NUS and St Andrews Cathedral!
This blog does not support scanning of currencies but this is... for educational purposes!!! Photoshop actually warns of this too. Interesting.

It was a red $10 bill with a blue kingfisher on it! A colorful dollar note! How interesting! The collared kingfisher looks particularly vivid on it. It was a beautiful piece of currency unlike our plastic feature right now.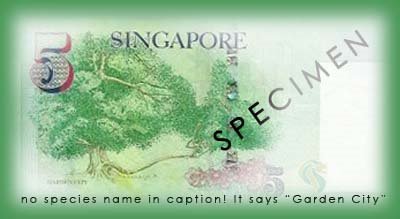 This blog does not support scanning of currencies but this is... for educational purposes!!!

Of course many of us know about the tembusu on the green $5 bill. I myself have used it everytime I guide on Ubin when we introduce Fagraea fragrans to the participants. Even Prof Leo Tan mentioned it recently in his speech at the HSBC NYAA award and opening of the heritage tree register! Yes that tree on the $5 note is most probably a heritage tree.

On an aside, if you visit Changi, you will see many signboards along the road and those identify the magnifique heritage trees that was part of a large dipterocarp forest in Changi!

So I did a little search and found out there are more of such wildlife dollar notes from Singapore! In fact, theres a website in the US that actually list all the "animal coins" in the world. I guess there are lots of people out there who like animals on their greens.

Here's more animal money:

Sea Eagle, Singapore 10 dollars
Oriental Darter, Singapore 5 cts
Rabbit, Singapore 10 dollars
Rat, Singapore 1984 50 singold
Sumatran Tiger, Singapore 10 dollars
Lion, Singapore 1 dollar
Boar, Singapore 10 dollars
Yellow Seahorse, Singapore 10 cts
Swordfish, Singapore 20 cts
Lion Fish, Singapore 50 cts
Pomfret, Singapore 5 cts

I mean this is just incredible! The 10 dollar note seems to have a freaking zoo parade past it in the history of Singapore currency. I don't know how real this list is because I sure as hell has never seen these before. Rest assured, I will hunt them out. Maybe the Mint will give me a better clue. Of course these are only the ones that the website has. Maybe there are more!

I think a trip to the Singapore Mint Coin Gallery is a must. I went to their website but I'm not sure if it's my browser blocking the scripts or what but I could not see the content. Anyways, the good news is, I can now verify that there was most likely rabbit and rats on the curency because it seems part of the zodiac sign and here's one with the rooster (my year!) :)



Picture taken from Visit Singapore

Check out the Mint's website and read about the currency evolution of Singapore. It claims to have all the currency since 1819 listed on the website!

technorati tags:
Natural Heritage