Update on September 13:
It appears the earthquakes and tremors are yet to be over. Latest updates at the bottom of the post.

This is truly a classic case of the beauty of web 2.0 connectivity.

14 minutes ago at around 7.29pm, Otterman posted a vague message on twitter.com:

"So it was tremors, not a giddy spell. Adrian [lekowala] says neighbourhood getting out of flats in Sengkang... he's at ground floor now"



Photo by Lekowala in Sengkang

At 7.35pm, I reread the message and decided to investigate if there was an earthquake and by searching for "tremors singapore" on Google, the 2nd hit was NEA's website on "Latest Regional Earthquakes" which kindly provided me with the information I was looking for.

30 minutes ago at around 7.10pm, a earthquake of magnitude 7.15 on the Richter Scale was measured off the Southwest of Sumatra. The website reports that a "local tsunami may be generated near earthquake source but unlikely to affect Singapore". This really proves that NEA is on top of their updates. I am rather glad of their efficiency.



Location of earthquake at Sumatra in red square. Map from USGS.

However, it must have been rather serious for it to be felt all the way in Sengkang, Singapore. However, while I was happily sitting here in my office in NUS, I felt nothing and am still awaiting confirmation from Otterman if he felt the tremors or was it only Lekowala.

A class in Natural Hazard 2 years ago taught this monkey that our friends in the Eastern Singapore is more likely to feel tremors as the ground they are on are made of sedimentary alluvium material which is less stable than the granite and what not other hardier material that we are seated on.

Unbelieving that nobody else has picked up on this, at 7.44pm, I made a search on Google News and no news agency has picked up this earthquake yet. At 7.49pm, I again searched for news and see that Channelnewsasia has made a "breaking news" entry on their front page stating that a 7.9 earthquake has struck Indonesia. As usual, there are magnitude discrepancy during the first hour of the earthquake hitting. Google has also picked up a one line feed from Associated Press stating that a powerful earthquake has made Jakarta buildings sway. Apparently at 7.41pm, CNA has made a report of Singaporeans feeling tremors but did not mention any details of location, instead providing only background to the earthquake and past events.

I'm still waiting for images to come in and for Lekowala to show some photos or perhaps to blog about the tremors in Singapore!

Updates
7.58pm: Otterman said that he felt tremors not in NUS but at Holland Village. I stick to my original argument that Kent Ridge is on hardier ground, geologically. USGS reports the earthquake to be 7.8 but NEA has yet to make any changes. Subscribe to USGS's earthquake RSS feed from around the world to keep updated on the latest.



Photo uploaded by 9.

8.06pm: Found that at 7.35pm, a friend uploaded the earthquake location map (above) on flickr as well as the breaking news headline on CNN (below). The easy to use photo sharing mechanisms at work! Naturally he also blogged about it. Apparently at 7.14 Singapore time, all hell broke lose on the Hardwarezone Eat Drink Man Woman forum. Cowboybar is no slower with members posting about the tremors at around 7.20pm when a member felt the quake downtown. 5 minutes later, other members reported tremors from Bukit Panjang.



Photo uploaded by 9.

This sharing of information in real time, at different places in Singapore, sharing experiences and checking on friends is absolutely effective. Meanwhile, I am getting in touch with people on instant messaging programs. On the other hand, said friend is waiting for youtube videos of buildings shaking. Is that too optimistic? Depends on how badly it shook I suppose. This is indeed the age of information sharing and high speed connectivity.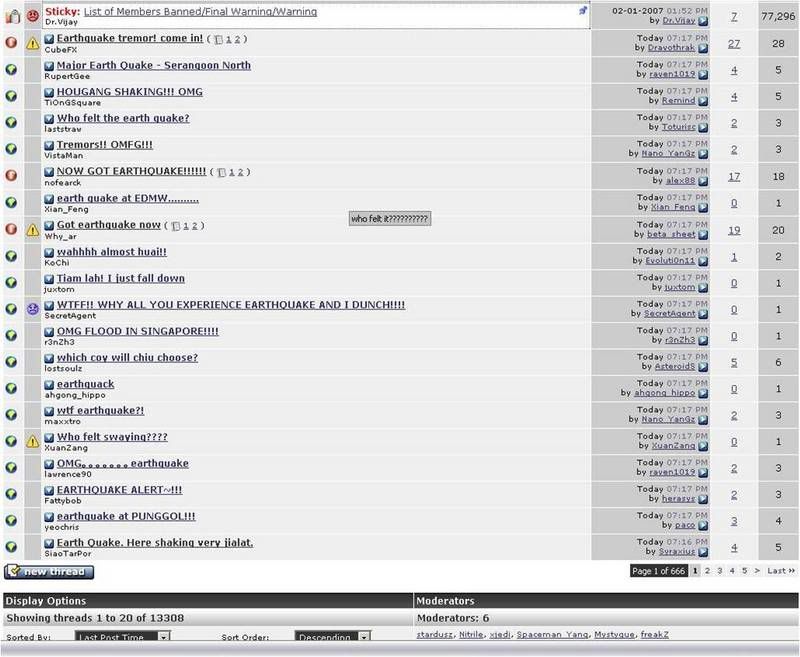 Screenshot of Hardwarezone forum reporting on tremors. By Kingmeng

8.06pm: Otterman blogged about the tremors and updating me on MSN. He also blogged about the tremors from the March 2007 earthquake where he likewise did not feel anything on the Ridge. Nonetheless the SCDF Civil Defence handbook gives detailed guidelines on what to do in the event of an earthquake or aftershock tremors.



Taken from SCDF Website.

So far locations where tremors have been reported:

NORTH-NORTHEAST
1) Sengkang
2) Woodlands
3) Serangoon North
4) Hougang
5) Punggol
6) Toa Payoh
7) Khatib
8) Ang Mo Kio
9) Admiralty
10) Anchorvale
11) Yisun
12) Bishan
13) Kovan

SOUTHWEST-CENTRAL
1) Bukit Panjang
2) NUS Bukit Timah Campus
3) Holland Village
4) Raffles Place
5) Bukit Batok
6) Alexandra
7) Tiong Bahru
8) Clementi
9) One Raffles Link
10) Jurong West (selected areas)
11) Chua Chu Kang
12) Yew Tee
13) Boon Lay
14) Harborfront

EAST
1) Aljunied
2) Bendemeer
3) Bugis
4) Marine Parade
5) Bedok Reservoir
6) Tampines (selected areas)
7) Whampao Drive
8) Mountbatten
9) Geylang East
10) Eunos
11) Pasir Ris (selected areas)
12) Little India
13) Kallang

Areas that reported NO tremors:
1) NUS (Kent Ridge)
2) Jurong (selected areas)
3) Tampines (selected areas)
4) Pasir Ris (selected areas)

At 7.25pm, a member on the Hardwarezone EDMW Forum reported "another round" which I am guessing refers to another round of tremors. This meant there were more than one which is really quite interesting. Were this the secondary waves, aftershocks or something else?

Many also reported that they were giddy, nauseous and felt physically sick. Some who evacuated reported seeing police and ambulance in their neighborhood to tend to any potential injured residents. There were reports of pipes being broken, ceilings cracked, water supply turning brown from pipe damages in addition to the usual swaying. Most people straightaway attribute their giddiness to possibly ill health instead of considering the possibility that the ground was shaking. Could this be due to lack of experience with earthquakes in Singapore? Some veterans (who probably live in tremor prone areas) said this was the worst tremor they have felt.

At 8.03pm, Channel news asia reports tsunami warnings being issued from Hong Kong, Malaysia and as far as Sri Lanka. Singaporeans as well should not be complacent as well if we are unlucky, and with the write geometry and strong enough magnitude, we would just see ourselves welcoming a tsunami. For now, I am just glad I am on high ground.

Likewise, Club Snap, a photography forum also has a thread with members reporting on experiencing tremors.

At 9.04pm, USGS website states 113 reports from Singapore of tremors as compared to no more than 20 from Indonesia, the place where it occured! This goes to show the wide gap in internet access within the region. Of course earthquake also means electricity being cut off. News report states that electricity and phones were disconnected due to earthquake.

9.45pm: saw Lekowala's photos of people gathering on the ground floor in Sengkang!



Lekowala even spotted somebody with a suitcase

See more photos from Seng Kang tremors here.

A discussion with my parents earlier reported that residents in the high floors at Teck Whye, Chua Chu Kang while those on the ground floor feels nothing at all. I guess that introduces another variable in the identification of tremor-prone areas. However, I am still assured that I am safe on Kent Ridge. But what if we had higher buildings on NUS, would I feel the shake? Engineering ultimately does determine the stability of buildings. Afterall the Japan Kobe earthquake was major because the buildings were unreinforced and not built to tolerate quakes.

10.03pm: watching Channel 8 10pm news now and it states within 2 hours, there were 3 earthquakes ranging from 6 to 8.0 magnitude. Tsunami alerts went as far as Sri Lanka and Australia but the alert has been called off [CNA].

Mainstream Media has also tapped on to videos taken by residents who called in to alert them of the tremors. No videos can be found on youtube yet. Reporters on TV also recount their own experience of earthquake at Caldecott Hill, in the news studio. Shenton Way Central Business District also saw evacuation.

I'm disappointed that mainstream media got video images before any bloggers did. Perhaps people have yet to upload their images on youtube. However, MSM-facilitated medium, Strait Times' Stomp saw many "readers" contribute their videos. I wonder if potential citizen journalists are lured by the exposure Stomp offers a piece of news and video as compared to one's own blog or youtube.

10.15pm: Found videos on youtube! Ironically, found youtube videos through google video and not directly via youtube's search function. 2 very short videos but here's a really haphazardly filmed one.



10.23pm: In order to explore the extent web 2.0 has been activated and deployed in the tremors, I made a search in various blog aggregators. Technorati finds at least 172 blogs about "september earthquake singapore". Del.icio.us finds none but it could be due to poor search keywords. Likewise digg has yet to find me anything.

Comparatively, citizen journalists are so far "losing out" in terms of video quality. Journalists with ample resources gets tip off from viewers who then visit newsworthy site in the business district and interview those involved while we get shaky videos. Although Stomp does get quite better videos. Is this a hint that perhaps we should maximize the infrastructure and facilities provided for citizen journalists by mainstream media?

So far I've found one other person who has linked this blog post in addition to Otterman.

10.39: My friend, 9, who is also following the progress of the tremors reporting closely tells me that upon closer filtering of technorati searches, there are only 55 blog posts related to today's tremor event, as opposed to 172 which I reported earlier. However, I think some blogs may be lost accidentally especially since he is searching for mentions of indonesia while I am searching for Singapore events. To add to the count, he has also linked this post.

10.48pm: check Channel News Asia again and saw that they expanded their reporting on Singapore tremors. The magnitude of the earthquake has now been readjusted and confirmed at 8.5!

The kind reporters from CNA also gave a history of earthquakes in the region where Singapore felt tremors.

6 March 2007 - magnitude 6.6
6 March 2007 - magnitude 6.1
18 December 2006 -
29 March 2005 -

According to NEA, at 9.02pm, there was another earthquake in Southern Sumatra of magnitude 5.7. In fact, 10 minutes ago, at 10:40PM there was actually another earthquake at magnitude 6.3! USGS has also adjusted their estimate of the first earthquake to be at 8.2.

A complete list of earthquakes tonight at Indonesia according to USGS:
5.9 2007/09/12 10:40pm SOUTHERN SUMATRA, INDONESIA
5.3 2007/09/12 09:17pm KEPULAUAN MENTAWAI REGION, INDONESIA
5.7 2007/09/12 09:02pm SOUTHERN SUMATRA, INDONESIA
5.2 2007/09/12 08:21pm KEPULAUAN MENTAWAI REGION, INDONESIA
8.2 2007/09/12 07:10pm SOUTHERN SUMATRA, INDONESIA

If you find theres a discrepancy in the magnitude of the earthquakes from different sources, that is because of the nature of earthquake magnitude estimation. Adjustments have to be made according to where the seismograph that picked up the earthquake is located [wiki].

11.49pm: This will be my last update so to enable me to resume regular programming. The media socialist group has highlighted the following blogsearch engines to find out who has been blogging about the tremors. These include Google Blogsearch and icerocket.com

5.28am: Got an email where Otterman suggested that this might be the first blog post in Singapore about the tremors felt here. The post was made at 7.15pm. At 12.01am I was reporting privately to the media socialist group that tomorrow.sg had yet to pick up on the tremors but at 12.27am, tinkertailor tomorrowed this post and I picked it up on tomorrow's twitter feed right now.

Interestingly, the reason why I am awake and updating despite earlier stating that was my last update is because, mostly, of this earthquake. Thanks to the earthquake and updating this blog post, I skipped dinner and ended up with pretty bad gastric pains which is why I am awake at this ungodly hour. Coincidentally, a TODAY reporter friend of mine wrote at 9.32pm about a stomachache and the earthquake on her blog as well. Maybe we do not give MSM enough credit. To be a mainstream media reporter is not all that easy either. Citizen journalists are not committed to cover every story that comes their way while reporters are bound my professionalism, and their job essentially, and have no choice but to. I look forward to reading her article on the earthquake in tomorrow's today's TODAY.

I'm also looking at some of the places that linked me and I am very impressed by what I've found!

First of all, estoy en espanol! I got linked in spanish on global voices thanks to Preetam!

Secondly, I found a blog dedicated to the use of technology changes that affect emergency management which I found absolutely interesting. Crisis, emergency, hazard management or whichever name you use, is absolutely pertinent and academically interesting for me. After reading so many posts, I must agree that hazard literacy is not very high in Singapore, probably due to our complacency and lack of exposure to hazards.

6.42am: USGS has yet again updated their earthquake lists. I can only imagine the worst in Indonesia right now. Original quake in Indonesia at 7.10pm now updated to 8.4. I am hoping all these relatively smaller quakes are after shocks. Hoping that my friends in Sumatra are alright. At around 1am, another quake was recorded further East in Indonesia near Dili. Since, no other quakes were recorded from Indonesia. Hopefully this is the end of the quakes for now.

A complete list of earthquakes tonight at Indonesia according to USGS:

5.3 - 2007/09/13 01:04am KEPULAUAN BARAT DAYA
5.9 - 2007/09/13 12:37am SOUTHERN SUMATRA
5.2 - 2007/09/12 11:35pm SOUTHWEST OF SUMATRA
6.0 - 2007/09/12 10:40pm SOUTHERN SUMATRA
4.9 - 2007/09/12 10:04pm SOUTHERN SUMATRA
5.3 - 2007/09/12 09:17pm KEPULAUAN MENTAWAI REGION
5.7 - 2007/09/12 09:02pm SOUTHERN SUMATRA
5.2 - 2007/09/12 08:21pm KEPULAUAN MENTAWAI REGION
8.4 - 2007/09/12 07:10pm SOUTHERN SUMATRA

Articles from Channel News Asia:
Singapore buildings sway after strong quake hits Indonesia, 12 September 2007 1941 hrs
Tremors felt most in homes in central Singapore, 12 September 2007 2227 hrs
The statement about Central Singapore being most affected seems to be based on very limited sample size of just Potong Pasir. I am sure Lekowala in Sengkang and people in Punggol and Hougang would feel very differently. Besides I consider that area Northeast Singapore
Many office workers in CBD evacuated from buildings, 12 September 2007 2331 hrs
Massive quake hits Indonesia, 13 September 2007 0047 hrs

13 September
12.07pm: The earthquakes has NOT ended yet! I was round. Shortly after I went back to sleep at 7.50am, tgwttihs said on twitter that she felt tremors and that's probably the 7.8 magnitude earthquake in the same Mentawai region in Indonesia! That happened at 7.49am and 7.50am we felt it in Singapore, give or take a few seconds response time to twitter that fact!

Just 30 minutes ago, annotated budak wrote on twitter that he felt tremors in Ang Mo Kio. Thinking he was joking, I checked the USGS website and saw that at 11.35am, there was yet another 7.1 earthquake!

I begin to see the trend that we feel tremors with earthquakes above magnitude 6.0. Sad to say I slept through it all, otherwise my home is either 1) on resistant geology or 2) my flat is not tall and vulnerable enough. I wonder how soon before Singapore real estate prices will be affected by areas where tremors are more prone.

I've smsed my friend in Sumatra this morning but have yet to hear from her and I'm getting really worried now actually.

Here's the list of earthquakes from USGS at 12.22pm:

7.1 - 2007/09/13 11:35am KEPULAUAN MENTAWAI REGION
5.5 - 2007/09/13 10:51am KEPULAUAN MENTAWAI REGION
5.9 - 2007/09/13 10:30am KEPULAUAN MENTAWAI REGION
5.0 - 2007/09/13 09:55am SOUTHERN SUMATRA
5.2 - 2007/09/13 09:49am KEPULAUAN MENTAWAI REGION
5.2 - 2007/09/13 09:38am KEPULAUAN MENTAWAI REGION
5.8 - 2007/09/13 09:26am KEPULAUAN MENTAWAI REGION
7.8 - 2007/09/12 07:49pm KEPULAUAN MENTAWAI REGION
5.1 - 2007/09/12 07:19am SOUTHWEST OF SUMATRA
5.4 - 2007/09/12 06:17am KEPULAUAN MENTAWAI REGION
5.1 - 2007/09/12 06:02am SOUTHERN SUMATRA
5.3 - 2007/09/13 01:04am KEPULAUAN BARAT DAYA
5.9 - 2007/09/13 12:37am SOUTHERN SUMATRA
5.2 - 2007/09/12 11:35pm SOUTHWEST OF SUMATRA
6.0 - 2007/09/12 10:40pm SOUTHERN SUMATRA
4.9 - 2007/09/12 10:04pm SOUTHERN SUMATRA
5.3 - 2007/09/12 09:17pm KEPULAUAN MENTAWAI REGION
5.7 - 2007/09/12 09:02pm SOUTHERN SUMATRA
5.2 - 2007/09/12 08:21pm KEPULAUAN MENTAWAI REGION
8.4 - 2007/09/12 07:10pm SOUTHERN SUMATRA

Selected Channel News Asia reports:
New quake hits Indonesia, tsunami alert issued
13 September 2007 0820 hrs
Indonesia hit by major aftershock; new tsunami alert issued,
13 September 2007 0921 hrs
Indonesia calls off fourth tsunami alert: meteorology agency,
13 September 2007 1043 hrs
Strong quake hits Indonesia; tremor felt in Singapore,
13 September 2007 1136 hrs

1.24pm: There was another earthquake.
5.2 - 2007/09/13 12:06pm KEPULAUAN MENTAWAI REGION